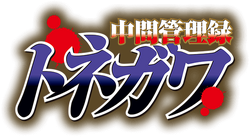 Chūkan Kanriroku Tonegawa (中間管理録 トネガワ) is a spin-off of the Kaiji series, which follows Tonegawa, the right hand man of Kazutaka Hyōdō, the president of the Teiai Corporation and owner of numerous gambling tournaments.[1]
Synopsis
After Hyōdō is getting bored with his life, he orders Tonegawa to organize a so called "game of death" as it is his and his subordinate's job to keep the president in a good mood. Tonegawa must cooperate with his subordinates in order to make the president happy and what follows is a humorous story of his interactions with his subordinates and other characters of the Kaiji series.[1]
The series mainly focuses on the happenings inside the Teiai Corporation and has a more comedic tone to it compared to the main series. The blacksuits are also given more screen time as the series follows a few of them around their daily lives and provides names for a few.
It acts as a prequel before the events of Kaiji as some of the gambles like the Steel Frame Crossing are first seen here in their conceptual stages (albeit in a comedic way).
It should be noted that Nobuyuki Fukumoto does not do the art for the manga of this series.
Gallery
Volume Art
Trivia
In Volume 5, there is a crossover event named "Tonegawa VS Hanchou" where Tonegawa meets Ōtsuki. Starting with episode 14, the anime also serves as an adaptation for 1-nichi Gaishutsuroku Hanchō. Coincidentally, the anime's 15th episode depicts that meeting between Tonegawa and Ootsuki.

On a related note, Yamazaki happens to eat at the same restaurant as Ootsuki and Numakawa at one point.
External Links
References
Community content is available under
CC-BY-SA
unless otherwise noted.